MCS SCHOOL SEAL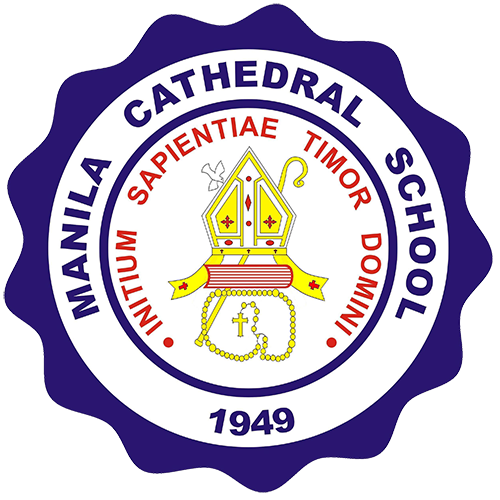 The emblem of Manila Cathedral School is in the shape of a decorated round shield. At the center of this is an Archbishop's Miter with a vaculo representing the school's archdiocesan foundation.
The Dove at the top of the miter signifies the third person of the Holy Trinity which continuously guides the school through the years.
The Holy Bible which is placed below the Archbishop's Miter depicts the importance of the word of God in educating the students towards the right path.
The Holy Rosary below the Holy Bible symbolizes the intercession of the Blessed Virgin Mary in the undertaking of the school in its educational thrust. It is also aligned with the nature of Manila Cathedral School as a Marian School.
The Chair inside the circle depicts one's reverence to the seat of the archdiocese of Manila . It also represents the leadership of the archbishop of Manila.
Inscribed around the Miter are Latin words "Initium, Sapientiae, Timor, Domini" the biblical translation of the school's motto: "The fear of the Lord is the beginning of Wisdom." Proverbs 9:10. Giving pertinence to the gift of the holy spirit wisdom which is instilled in every MCSIAN.
The logo of the school as a whole depicts the mission and vision of the school to provide Quality Catholic Education which is rooted in the teaching of Christ.